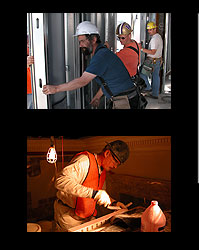 Safety
We don't think twice about safety
We think about it every minute of the day. A written safety policy, education and training and specific job site safety plans are a few of the ways we work to ensure the safety of our most important asset: our employees.
D.L. Henricksen is an active member of Approach Management's Retro Group. The minimum education requirements to work on a D.L. Henricksen project are:
First Aid/CPR
OSHA 10/OSHA 30
Scaffold User Card
Powder Actuated Tools Certificate
Scissor/Boom Lift Certificate
Fall Protection
Globally Harmonized System of Classifications and Labeling Chemicals (GHS)
D.L. Henricksen's commitment to safety is exhibited by its EMR rating of .752 (2014), .842 (2013) and .824 (2012).